So I've fallen off the Jazzercise wagon lately, what with my handicapped husband, family in town last week, and the Alzheimer's Memory Walk (which I brilliantly decided to
run
and then suffered several days of soreness afterwards). I reluctantly got back to it this week, but since so many of you are unfamiliar with the ritual, I thought I should take a few minutes to describe it to you.
DISCLAIMER
: This is NOT how Jazzercise patrons dress. I must emphasize that the stereotypical image of Olivia Newton John in her "Let's Get Physical" video is not how we roll (I usually sport a tank top and capri pants). So please permanently remove this mental picture from your brains: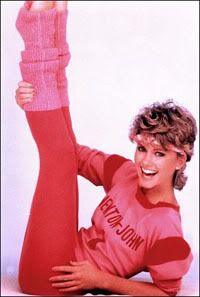 It all begins with the yawns. I'm
too tired
to go. I don't really
want
to go. Can I think of a good reason (or two) to skip out? Will one of the Anorexic Girls be there today (while I know they are struggling with their demons and they are not healthy, I always feel like they must look at me and think, "Now there's a FATTY!")? And then I have to consider who's teaching...because if it's Miss Red Head With Perfect Piggy Tails I'm A Size Zero, then I can't go. If it's Miss I'm Gonna Give You All A Pep Talk For The Next Hour with, "C'mon, you can do it!" or "Don't you want to work off all the nachos & fries you inhaled over the weekend?" who smiles the entire time, rockets all over the stage like my girls' bouncy balls, all the while maintaining her precious, perfect little hairdo---then I don't wanna go.
There are at least four main types of women at Jazzercise: the obsessive Anorexic Girls who probably go to class 2x/day, 7 days/week; the super-fit & muscled-not-an-ounce-of-fat-on-me girls; the real/average American girls, and the heavier girls. While I definitely appreciate the variety of body shapes & sizes, I don't appreciate the supersized posters of Judy Jazzercise all over the walls. Her eyes follow me while I work out, kinda like the Mona Lisa. Which is not a good thing when I'm huffing and puffing and sweating buckets. I have to wonder: does Judy Jazzercise even eat? Look at her. She's also much too happy. Is anyone truly happy while working out? I'm only happy when I'm done.
I usually opt for a potty break when I hear that seven-minute-long Jazon Mraz song come on. Because that's a good way to shave a few minutes off the really rough ab workout. As I lay the toilet paper out prettily over the toilet seat, I admire myself in the mirror--I love the way my workout pants accent my muffin top. And my calves are so white everyone has to wear shades. While I'm in the bathroom I notice that someone has left quite a mess at the sink. So I take an extra minute to wipe that up, and then I put a new roll of paper towels on the rack. Voila! I've wasted enough time that once I come back out, it's silly to start when the crunches are nearly over!
As a general rule, I always stand in the back row. Then there are significantly fewer opportunities for people to be faced by my fanny. I can also do my daily comparisons and belittle myself, admire others' super cute workout gear, and ogle the perfect girls. It's also a safe way to ensure that I do each routine correctly; it's far easier to watch the people directly in front of me & imitate them rather than to squint at the instructor way up in front. This isn't foolproof, however. I routinely go left when I should be going right, bang into my neighbor and shout "Sorry!" over the pulsing music. Or I'm doing a plié when everyone else is doing a jete. But I'm in the back row, so it's not glaringly obvious. Except to the instructor in the front of the room.
My favorite instructor is Sally. Sally happens to be a real/average American girl like myself. She isn't a pep talk person and she knows how to make the workout more fun. She'll talk about all the crap she ate over the weekend, all the beer she drank, and rant about her husband's latest antics (including a recent debacle with a homemade aquarium that leaked everywhere). She is real. She is not tiny. She sweats buckets like me. She gets tired during the workout like me. I appreciate that sort of thing because it makes me feel more normal. And because she helps me feel that way, I'm more inclined to go, and to seek out the classes she's teaching.
What do you like to do for exercise & how often do you do it? How do you stay motivated & realistic with your goals?