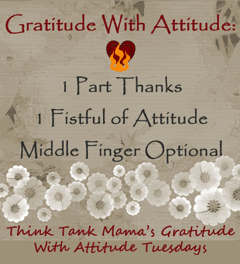 Dear Self,
Thank you very much for hitting a parked car this morning. I am so thankful that you misjudged the width of that Jeep's fenders or whatever as you pulled into your parking spot. I am really excited that my rear fender is hanging off while the other car sustained minimal damage. ANd it's fabulous that my adjuster can't look at my car until tomorrow morning. Now I need to find someone to help me jerry rig it so it doesn't fall off tomorrow on my way to get the repair estimate.
Sincerely,
Me
Dear Girls,
Thank you very much for complaining about missing your play date because of the car accident. And I know the reason for the accident was that I was pulling into a bakery to get treats for you and your little friends. You really don't need to keep reminding me that Daddy doesn't know about the accident yet. He'll find out soon enough.
Love,
Mommy
Dear Bakery,
Thank you very much for tempting me with your delicious treats while I am trying to behave and have lost eight pounds since New Year's. I guess I should be glad I had an accident and therefore skipped out on the bakery altogether as I sat on the phone for a half hour with my insurance company and cried my eyes out.
Sincerely,
Trying to lose another few pounds
Dear Woman Whose Jeep I Barely Hit,
I know it sucks that I hit your front fender. I also know you were working when it happened and I'm sorry my timing sucked. However, I was a basket case, apologizing left and right and gave you all of my info quickly. And you were still rude and short with me. Cut me some slack. Your car had a few minor brush burns and likely all will easily be buffed out. My adjuster has probably already called you and your repairs (if any are required) will be taken care of promptly.
Sincerely,
Having a Nervous Breakdown and Just Need You to Forgive Me