I've seen posts like this all over the Blogosphere lately, so I'm finally jumping on the bandwagon. I wish I remembered where I'd seen them all so I could give credit where credit is due. If you know, please email me so I can edit this to include those bloggers!
Exhibit A:
My Gap handbag I got on sale for $16.99 a few weeks ago. Looks innocent enough, right? Yeah, well, let's just say looks can be deceiving, people.
Exhibit B:
This is me. Apparently.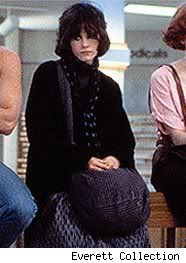 In true Ally Sheedy/Breakfast Club fashion, I dumped all its contents onto the living room floor. Then I took photos of things in small groups. However, please note that
not
surprisingly, no makeup, fun headbands, or Capn' Crunch cereal were found in my purse.
In no particular order, here is everything that was/is in my bag.
2.) New package of Heartgard for Monster. I don't accept plastic shopping bags, so sometimes I just stuff things in my purse.
3.) Small pack of Hello Kitty wipes. Because my kids had to have 'em & because Hello Kitty rocks.
4.) Pink composition book. For all the stuff I'm not writing or should be writing down.
6.) Box of Altoids. Because I have halitosis. Or diarrhea of the mouth. Or something. I stink.
7.) Boxes of crayons from Nordstrom's Cafe. I think they get thrown away (after use) otherwise, so we bring them home. Like we need more crayons around here.
Misc. papers:
3.) Black sunglasses case from Ann Taylor Loft.
8.) Ginormous vet bill receipt for grooming and labs for Monster. But bonus-- a rebate form for the Heartgard! I can get 12 whole dollars back! Woohoo!
9.) Miscellaneous note/list of stuff I need to do but haven't yet. Oy vey.
1.) Pens--six of them. Because somehow, even with that many in my purse, I'm always digging for and unable to find one when I most need it.
3.) My regular key chain and my spare car key chain. Because it really makes sense to drive around with my spare key in case I lock myself out of my car.
4.) Contact lens case.
5.) Stupid Sprint cell phone. That doesn't give me any service in my own house.
6.) Small tube of Cetaphil hand lotion.
7.) Small bottle of hand sanitizer.
8.) Box of Shut The Hell Up gum. Just because I liked the box. 12 kinds of awesome, people.
10.) Misc. hair clips/accessories including Hello Kitty ponytail holder. Because in case it's not obvious, we like that chic. I mean cat.